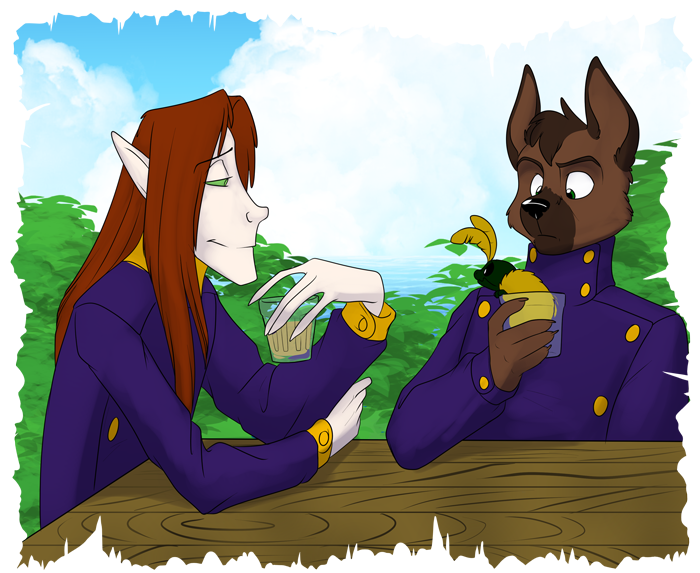 Hector Fen (Formerly Lomani Fenhoof)
Species: Elf (Formerly minotaur)
Height: 6'2"
Age: 1000 (Appears 35)
Rank: Accountant
Hector's life changed forever when his sister Fenriria was born. In the minotaur clans from his homeland, it is a curse to be born with the mark of the wolf. So when the young minotaur girl manifested the dreaded mark on the back of her neck, Lomani Fenhoof, the eldest son of the Fenhoof clan, was tasked with ending her life. He took her to the sacred grounds to cleanse her spirit and end her life but couldn't bring himself to do it when the moment of truth finally came. Instead he took his younger sister and fled into the wilderness, hoping to hide from his clan and protect his sister. Unfortunately a tribe of dwarves he attempted to seek refuge with tore him to shreds while he bought time for his sister to escape.
But the mark of the wolf was a sign of great magic power, and Fenriria refused to let her brother die. Instead she trapped his soul in a crystal and fled, holding it close until she found a new body for it. The body came in the form of a mad wizard who had all but destroyed himself from the overuse of magic. He attacked Fenriria but she saw an opportunity to finally give her brother a living body once more. The rules of magic forbade her from killing, but she was able to force the elf's soul out of his body, seal it in a crystal, and put her brother's soul in the empty husk that remained.
Lomani awoke to find himself in a frail and feeble body where he was once mighty and strong. He was a slight and delicate thing instead of massive and powerful. What was worse, he was in constant and agonizing pain from the magic poisoning his body had endured over the centuries. He pleaded with Fenriria to undo her spell but she refused. So Lomani Fenhoof became Hector Fen, a very grudging companion to his sister whose powers were growing stronger by the day.
As the years passed, Hector shifted his focus from being a sharp hunter and warrior to being a shrewd businessman and accountant. He gave up on hunting completely after his beloved hunting companion, Euripides the lynx, passed away. At first he fell into a depression and refused to eat and began to drink heavily. Soon all he was subsisting on was liquor. It was then that Hector learned that his sister was devoting part of her power to keeping Hector alive when he suddenly had a heart attack and collapsed, only to rise up a few minutes later with the damage healed after he was sure he had died.
Hector's depression and self-destructive behavior grew even worse after that and it taxed his sister's powers more than she liked. So to try and boost her brother's strength she made arrangements with a werewolf clan and had the alpha infect her brother with lyncanthropy, hoping that the regenerative nature of it would help heal her brother and take some of the strain off of her own powers. The alpha of the werewolf clan, Tiber, took responsibility of Hector and helped care for him.
Within a year the two grew close and married, and for a decade the two lived together in what Hector saw an an idyllic life. That all ended when a rival with eyes on Hector's fortune tried to kill him with an arrow. Tiber hurled herself in the path of the arrow and it pierced her heart, killing her in moments. Fenriria appeared and whisked the two of them away, but it was too late to save Tiber.
The death of his wife sent Hector into an even deeper depression and for almost a century he locked his feeling away and became an even more shrewd businessman. Fenriria brought Hector to earth for a fresh start. He spent time in England, then relocated to America during the revolution, then spent time in the old west and the gold rush, and even worked with Capone during Prohibition. When Prohibition ended he became a talent agent in New York until Fenriria moved him to Aukate, fearing that America's involvement in WW2 might put him at risk again.
Hector resented having his world yanked away from him once more, but grudgingly admitted that it was nice to live in a place where he didn't have to hide anymore and quietly reveled in having a new economy to play with. He grew close to governor Rex and tried to advise her as best as he could and worked under her radar to keep Aukate's floundering economy from completely going under. In Rex's twilight years Hector secretly took in a young fox who played around his shack and started carefully grooming her to take over rulership of the islands when he realized that Rex's plan to dissolve the governor role would utterly collapse the economy if allowed to happen.
When Rex passed on and his groomed replacement, now known as Overlord Fox, was in power, Hector settled in as an advisor and accountant. Very few people know that Aukate owes much of it's technological and economical prosperity to him, and he's happy with that.